Friday was hubby's birthday. Since his birthday was pretty much covered by the new golf clubs, shoes, driver, clothes, and golf trip to Nevada at the beginning of the month, we had a pretty low key birthday celebration. I had the girls color some pictures for him and we hung those up around the house with some balloons and put streamers on the door into the house from the garage. Emma drew him a picture from the cat and they helped pick out his poker-themed birthday card.
He got to pick where we ate tonight and his choice was more about the view than the food. There is a restaurant near campus that is located on the 7th floor of an apartment building. From the windows you can see campus and beyond--the girls loved the view. After supper we took a quick walk around Lake LaVerne and even saw Sir Lancelot and Elaine. The girls love going on campus and Emma told us she is going to live ON campus when she grows up. If she is anything like her dad who spent many a late night studying at the library or in one of the engineering buildings, it may feel like she literally lives on campus.
When telling the girls how old daddy was, we said he was a Leah (3) and an Emma (6). Note, it isn't addition, just putting the two numbers side-by-side. ;) Don't think that will happen again!
Here are the girls singing "Happy Birthday" to daddy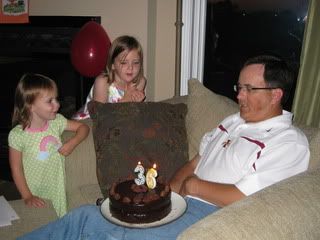 The birthday boy and his cake
Happy Birthday, honey!