As the girls and I were standing under the campanile on the Iowa State Campus this noon with perfect summer weather listening to a
carillon
concert, I called
dh
to see how his day was going. I told him I
almost
felt guilty for being able to be home with the girls and experience things like this. Almost.
Today
RAGBRAI
came through our town. It is an annual bike ride across Iowa, where 10,000+ people ride from the west side of Iowa to the east side of Iowa (you can dip your bike wheels in the Missouri River on the first day and the Mississippi River the last day). They stop in towns overnight, and this year where we live is an overnight stay. It is a fun sight to see all the bike riders come in, so the girls and I headed on campus to watch this late this morning.
Guess who else we saw? The girls' favorite college mascot, Cy.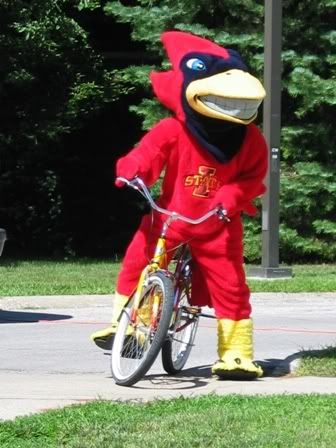 Here he was on his bike, welcoming riders as they came onto campus.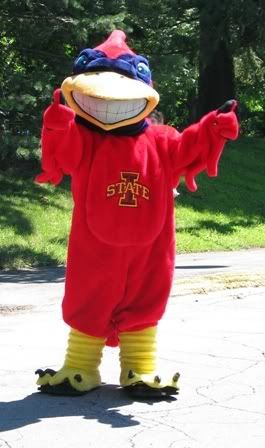 Funny how we saw him again just a few minutes later (and he was a little bit shorter). I told Emma that was Cy's "helper", but she is on to the whole "person dressed up" gig. That was realized early this year during basketball season, but she still loves to see him at every chance. She also told me today she wished her Dad was the one who dressed up like Cy so she could go with him to all these events.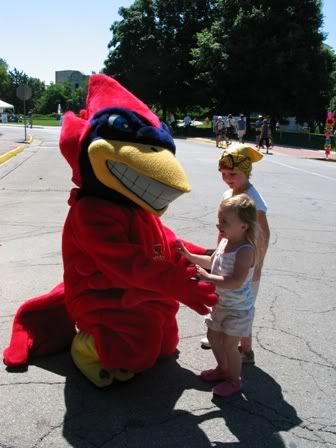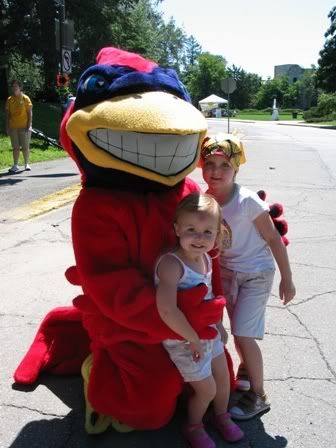 There is lots more going on in town tonight, but I don't know if we'll get to anything else. Lots of good food and entertainment that we'll probably miss.
I hope the girls have good memories of doing all these things when they were younger. I know I'm having fun!
p.s. For you die-hard Cyclone fans you will notice that Cy is now sporting the new logo. :( We aren't converts yet. If you need anything with the old logo/colors, let me know and I'll hook you up. The bookstore has old logo stuff 50% off.