I wanted to give a shout out to the actual father of my own children after giving my Dad such a glowing review. We had a very nice Father's Day and I'm glad my own girls have such a great dad. He may not have the patience of a Saint, but he loves his girls more than anything in this world. Even golf. (I think).
Father's Day started off in church with EE singing a few songs from vacation bible school we had the week before. This was from Amazing Grace, complete with actions for "I once was blind".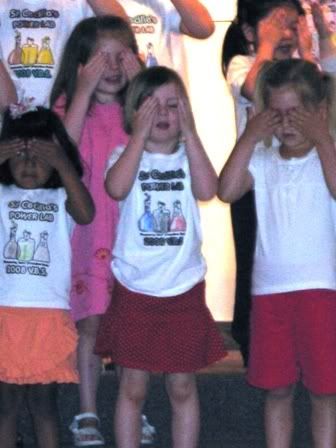 I had packed a picnic lunch and of course when we left church it was raining big, fat, slow raindrops. We headed off to our picnic destination anyway, hoping the blue skies we saw were an indication that the rain would end soon. It did. I snapped a few pictures of us walking to our picnic destination, and this was my favorite: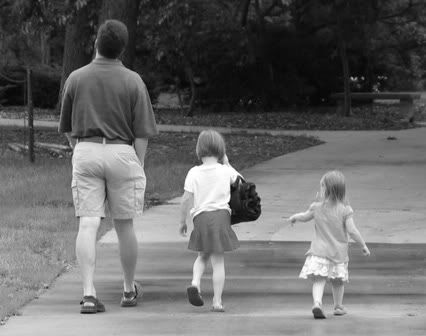 We ate our lunch under the campanile on the Iowa State campus. EE loves to go on campus and we promised her a picnic there one day--no better opportunity than Father's Day. Here is what the campanile looks like: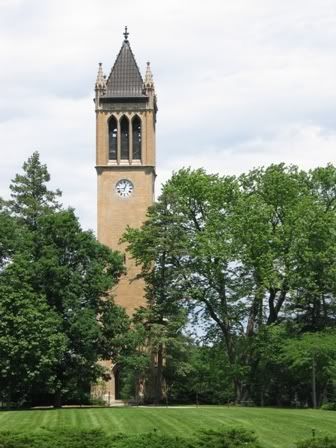 As we were eating under there, dh mentioned to EE, "You don't know how much this spot played into your actual existence here today." You see, we made many a trip to the campanile at midnight during our college days to "kiss under the campanile". It is a tradition I've mentioned before. The story is if you kiss a virgin under the campanile at midnight, a brick will fall off the campanile. Notice in the picture above there are no missing bricks. Hmmmm. Anyway, we were engaged under the campanile in 1996 at midnight on July 4th. We took wedding pictures there a year later. Now we are taking pictures with our two girls: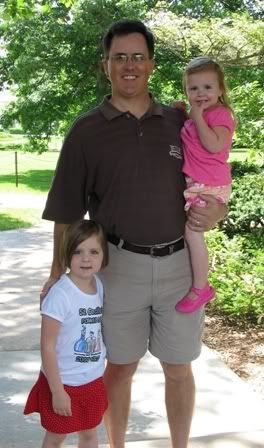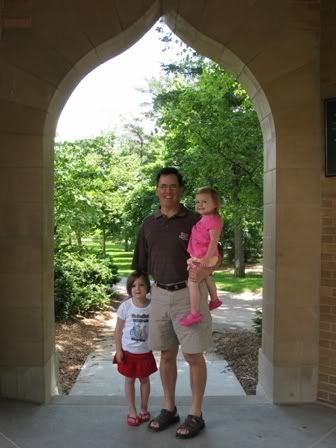 While we were picnicing, a newly married couple came to take some pictures. They said they were married on Saturday but another wedding couple was taking pictures there, so they didn't get a chance. We had to share our story of being engaged there 12 years ago. It was fun to see the traditions carrying on.
Across from the campanile is our student union. Outside of the Union is a fountain, so the girls made their wishes on pennies and got to dip their toes in.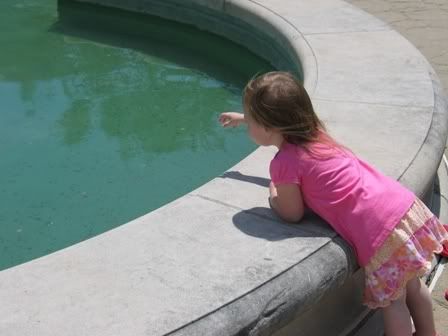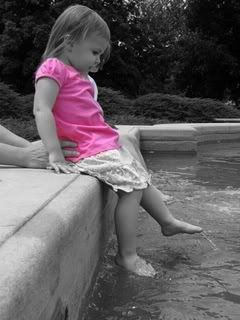 Of course we had to pose with Dad there, too.
It is also dh's birthday this week, so we have lots of celebrating to do. I'm trying to decide if I make a dessert for him (chocolate cupcakes) or one that I like too (peanut butter pie. Yum). Any input?