Had sort of a busy week, here is what we've been up to:
Playdates. I love that we are in a neighborhood that has lots of kids. Monday we went to the park with our group for a couple hours. Tuesday a neighbor called for EE's to come over and play in the sprinkler. Wednesday we met EE's preschool friends at a park. Thursday we played over at a neighbors and had a picnic lunch. Today we'll put up our sprinkler. Man, the girls have been getting lots of outside time which is great!
Shopping. Dh's birthday was yesterday so I had to finish up some things. Monday we traveled to the "Big City" and hit a few stores but didn't really ever find what I wanted. Tuesday was a haircut for me and shopping at the mall. Wednesday was Target, WalMart and Lowe's. Thursday we didn't go shopping (gasp!). Today was Target yet again.
Baking. I decided to go with giant cupcakes for dh's birthday. He is sort of a traditionalist, so I figured he would want some sort of cake-type goodie and ice cream. This is how they turned out. Have I mentioned before that dh loves golf? Maybe a time or two. We went with a whole golf theme for him this year.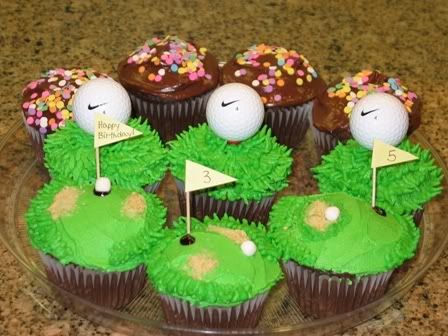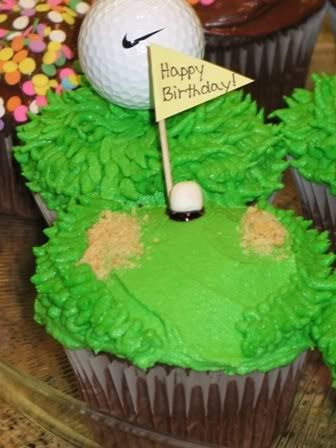 And here is the birthday boy:
Now I have about 1.5 months until the next birthday:
Other random things:
EE is still determined to be a boy. Today she informed me that she will only wear short sleeved shirts and doesn't like tank tops. That doesn't go over well with Mom since there are 13 tank tops hanging in her closet. Maybe she will change her mind when it is 95 degrees out and the heat index is 110 later this summer. I just need to convince her that boys wear tank tops, too.
We found out who EE's teacher is for next year. I don't know much about any of the individual teachers, but she got Mrs. Jordan. I was kind of hoping for Mrs. Tickle, purely based on her name. Isn't that a great name for a kindergarten teacher? EE isn't in class with any of the neighborhood kids which is sort of amazing considering there are at least 5 others that we know of. She also isn't in class with any of the college coaches or AD's kids (which means we lucked out and didn't get into the same class as ANB!)
Dh had been suffering from chest pains about a week ago. They were constant and quite painful; on more than one occasion he was ready to go to the ER or call an ambulance. He finally went to the Dr. He is like most men and I can count on two fingers how many times he has gone in on his own for other things in the 15 years I've known him. After he's seen the bills for this last visit, I will be hard pressed to get him to ever go again. $1K later all he was told is "Its possibly heartburn/reflux. Try OTC Prolosec for two week" Nice.
I'm finally losing some weight. I've been trying for oh, say the past 5 years and haven't been too successful. I'm just about down to where I was when I got pg 3.5 years ago.
The house is clean, the kids are in bed, and I'm about to get on the treadmill. Apparently this whole losing weight thing involves exercise. Who knew?