I'm always a day late and a dollar short, it seems. Yesterday a few of my fellow bloggers (a.k.a.
Teri
and
Cristin
) participated in
Nester's
photo extravaganza. The idea was to capture something in your life that is beautiful to you, but not necessarily perfect. We all know no one is perfect, no matter how much they claim to be a perfectionist. As much as I like things in their place, I am no where near perfect, either. And sometimes there is beauty in chaos.
Two pictures came to mind when I saw the title. The first is of some snap dragons I have growing at my house. I bought these from the neighbor girl as a fund raiser for the local school. When I got them, they were 6 tiny green plants and I planted them in a container and put them on the back patio. All my other flowers I planted have blossomed and proliferated, and I've only Miracle Grow'ed them once. These particular snap dragons have grown, and grown, and grown. They've only now just started to bloom. These things are ginormous (love that word)--I've never seen snap dragons get so big. They have withstood 50+ mile an hour winds on more than once occasion, sideways rain, and at least 10+" of precipitation.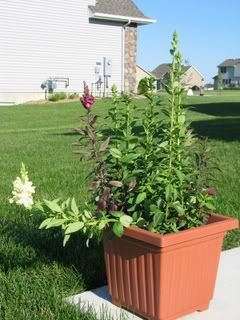 One particular bloom has gone a little wonky. It makes a 90 degree turn out of the container, grows parallel to the ground, then makes a third 90 degree turn straight up. Imperfect, yet beautiful.
The second picture I love is one of LC. This is probably either right after her surgery or the day after surgery. She on the whole is imperfect (speaking in terms of how messed up her internal organs were), yet beautiful. Her scar is now faint, but I hope she wears it with pride.