So after 1113 days of potential hair growth, I finally decided it was time to get rid of the mullet and get Leah her first hair cut. Hubby is still mortified that I cut Leah's hair; his thoughts were it took this long to get hair--why cut what little she has? Because stringy, scraggly, thin, mullet hair is not becoming on such an adorable three year old, dear.
Here is the before: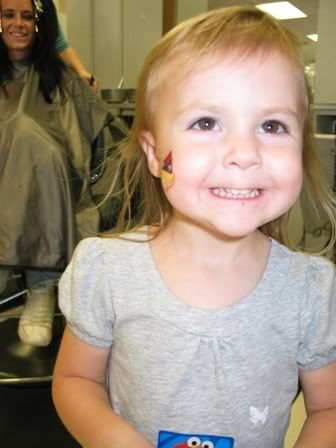 During the haircut: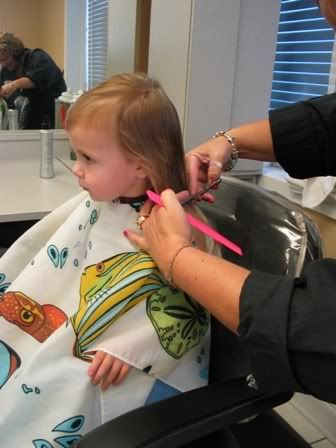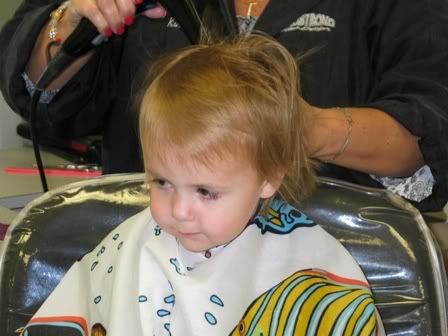 And the after--ta da!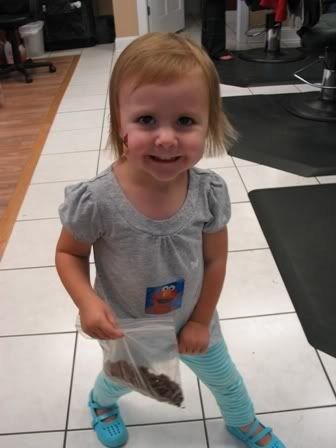 (Note--she didn't do anything to the bangs, that is how short they are after 3 years)
I happened to be making a trip back to where we used to live and got Leah in with my old hairdresser. She also gave Emma her first haircut--I told her if we would ever have a third, we'd be back again.
Now, I am not opposed to girls having long hair. I may let Emma's hair grow out at one point, but for now her bob suits her and its quick and easy. I will also let Leah's hair grow back out, but it needed to be cut. Most likely she has inherited my fine, thin hair which looks horrible long but I will humor hubby who thinks all girls should have long, thick, preferalby blonde hair. (Ain't gonna happen without a good dye and weave job in this family)
******************************************************************************
The main reason we went back to our "old town" was for me to have a Dr. appointment. Ladies, you all know . . . THAT one. I wasn't up to finding a new Dr. here in town, so I decided it would be easier to go back and see the one that I know and trust. Not to mention I have a slight crush on him in the "you saved my daughter at birth and I will love you forever" kind of way. He is an awesome guy and took great care of all our family in the 4 years we lived there. He has 5 boys and always loved seeing both of the girls--there has been talk about possible arranged marriages. I could tell he may have a slight preference for us--when you look at his bulletin board of pictures/Christmas cards/birth announcements we are up there at least three time. He has to clean it off to make room for new ones, but he leaves ours up there. Man, I miss it there.
*******************************************************************************
Another reason I needed to get back was to go to my friend Robyn's store. She runs an awesome consignment shop where I used to get the majority of our clothes. Now I actually have to BUY clothes. Since I hadn't been there in awhile, I found quite a few great things--and it didn't cost me anything since I had credit there from the stuff I've sold. I got myself I new pair of Gap jeans, a JCrew shirt, Rocket Dog shoes, and an Anne Taylor loft skirt (for free since it had a hole in it that she knew I could fix). For Emma I got a couple Old Navy shirts and a pair of capris, and for Leah I got a pair of Old Navy pj's and a pair of Croc mammoth shoes. $4 for the shoes, ladies! Those retail for $30. I've tried to shop at the consignment store here in town and it just isn't the same--the prices are WAY too high and the clothes are WAY out of date. Robyn only carries recent styles and gets a lot of name brand stuff that looks barely worn. I used to visit at least twice a week. Now I've been there twice this year.
*******************************************************************************
Those are the only reasons I would go back--cheaper haircuts, great Doctor, and awesome clothes. Now that I did all those things, I probably won't be back in awhile. I do not miss the town at all. I do not miss the 1+ hour drive on a crappy highway--I can't believe I drove that 3 days a week for 3 months, and hubby drove it everyday for 3 months.