We need some help making decisions. Neither hubby nor I is ever quick to make a decision and there is often much hemming and hawing going on. Let's see if I can get more than my 3 loyal readers to comment and give me their opinion. Everyone has an opinion, right? Let's hear yours!
Due to a nice financial contribution from an
un-named
source, we are able to purchase some new, much needed furniture for our house. We last bought a substantial amount of furniture 11 years ago after we were married with our wedding money. We went to the Furniture Barn and Jay (yes, I remember these details vividly) was able to help us pick out the finest quality furniture for our new wedded household. We bought a dining room table/chairs, a full bedroom set, a sofa and loveseat, and a coffetable and end table for roughly around $3-5K (I can't remember those details). The furniture has lasted us 11 years, but its time to make some replacements.
One item we need to replace is the dining room table and chairs. We have the standard golden oak round table with 4 country-looking chairs. We are thinking of something like this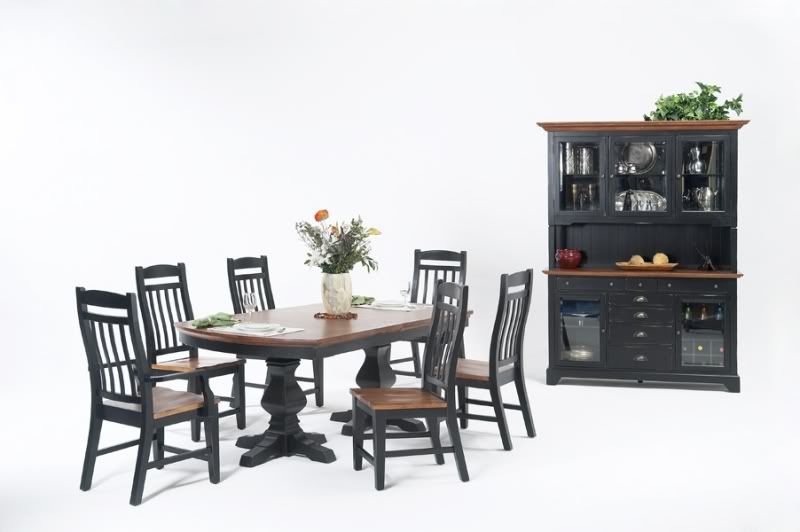 or this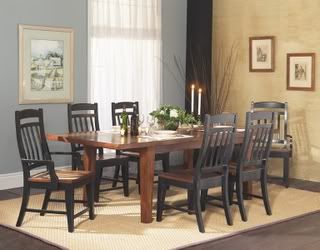 The chairs are the same, the table styles are different. Any preferences? The one we saw locally yesterday was the first one, but we weren't totally thrilled with the bulky table legs. I found another table that goes with the set at a different furniture store---250 miles away. But I think the table style is more what we were looking for. It would also cost a little more since the set we saw yesterday included the table, 4 chairs, and 2 side chairs. The other furniture store only offers it as a table and 4 chairs, the side chairs would be more (and, yes, we would like at least 6 chairs).
Does the second table have enough appeal to either pay up the wazoo for delivery charges or try to bring it home ourselves? We aren't looking for a set that will last 25 years, we just want a decent set we can live with for the next 7-10 or so. We are talking a difference in price of maybe $500.
So if making one major decision on a dining set isn't enough, we need to decide what we want to do about a bed for Emma. She has been sleeping on a mattress on the floor for the past 3+ years. She did get upgraded from an air mattress to a real mattress this summer, but she still doesn't have a bed. I have in my mind to put bunk beds in her room, but hubby doesn't necessarily agree. Does she need bunk beds? No. Could there possibly be a situation where we needed bunk beds? Maybe, we honestly don't know at this point (say like if some other small person would happen into the family who would need a crib/Leah's room and Emma and Leah would have to share a room). So do you buy bunk beds anyway? Just set up one and put the other one in storage? Have both of them up for guests/friends who stay over? Then if yes to bunk beds, do you get a full on the bottom and twin on the top, or two twins? Arrghh!! Too much to handle!!!
The bunk bed we are looking at (crappy angle if you ask me, you can't even see the details on the ends of the bed)
You just buy an extra extension to make it a full on the bottom
So then say if we went with the full/twin combo, we would need to buy a new bed for us. The full bed in the guest room would go to the bottom bunk, Emma's twin would go to the top bunk, and our queen bed (which needs to be replaced having been purchashed at the Furniture Barn 11 years ago) would be the new guest bed. Follow all that?
Then, IF we would have any of our "furniture" money left, do we put it towards new blinds (our house currently has ghetto fab white paper folding shades) or buy a new TV for the living room upstairs. I think the gift-giver had intentions of part of the money being used for a new TV since he is tired of having to look at the 13" screen when he comes to visit. (Have no fear, we have a lovely wide screen plasma TV downstairs, but that would require him to go downstairs to watch it).
Okay, my brain is spinning and its not even 8:15 am yet.