Today is the day---the big Iowa vs. Iowa State football game. This is one of the biggest games of the year in the state. It determines who gets bragging rights for the next year. The rivarly has been strong for as long as I can remember. Let's face it, we don't have anything else--no NFL team, no professional baseball team, no NHL team. College football is it.
Obviously if you have read this blog more than once, you know what side of the fence we sit on. There is no denying the fact that we are born and bred die-hard Cyclone fans. It starts at birth and continues from there. Here is some of the earliest evidence that we are raising our girls right:
Emma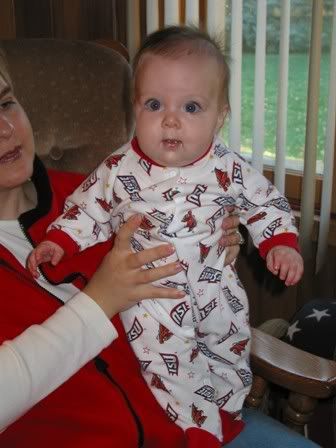 And remember
this
post? Leah survived 6 weeks (including the start of football season) in the middle of Husker land. We wore our Cyclone stuff with pride: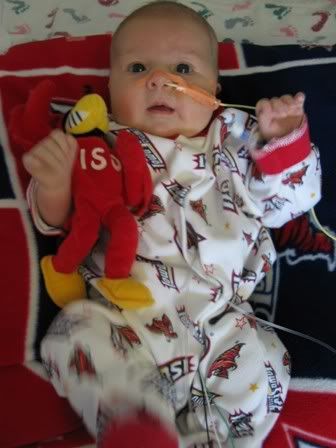 The girls at the game last week
Emma knew at a tender age that Herky and the "hot dogs" (as she called the Hawkeyes earlier this week) are bad and Cyclones were good. She has passed this knowledge onto her younger sister. We are working on cousin G who lives on the "other" side of the state and has a parent who leans more toward the dark side. We are also working on cousins Cam & Kadance--their parents are Jack Rabbits and we proved
earlier
this fall that Cyclones rule.
I will let you in on our family's dirty little secrets. 1. My dad attended the University of Iowa briefly. We try not to dwell on that. He is one of the biggest, most optomistic Cyclone fans you have ever seen. Smart guy. 2. I once belonged to a Hawkeye fan club. In 2nd grade a group of boys started a club at recess--dues were 5 cents. I only did it because I wanted the boys to like me. As I remember it, at least one or two of the boys went on to be Cyclones. That was also probably the first and last time I ever pretended to be a Hawkeye fan. Wasn't even worth the 15 cents or so I spent.
Hubby had a pot luck at work on Friday to celebrate the upcoming game. This is what I sent him with: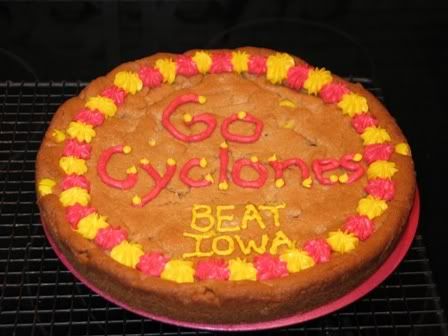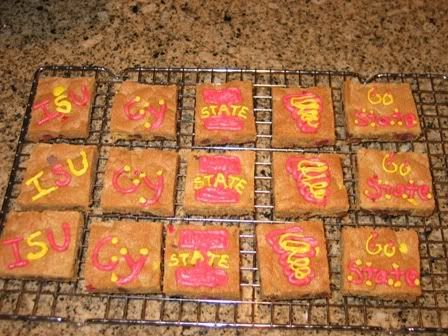 I will admit that I may not even watch the game. We play in Iowa City today, so we won't be going. I'm such a Nervous Nelly (I get it from my mom, she is the same way)--just let me know what the final outcome is. A Cyclone victory.