Don't fall off your chair folks, two posts in one day from me. ;)
If you have followed along from the beginning, you know that we are BIG Iowa State Cyclone fans. And if you know anything about football, people who are Nebraska Husker fans tend to be a little, um, crazy? Okay, maybe fanatical is a better way to describe them, but they can be a little freaky at times (I mean that in a good way--I think). So when we ended up in the middle of Husker land when LC was in the hospital, we couldn't just roll over and die as Cyclone fans, we had to show our pride. We had a big blanket on display at all times in our NICU room:
We threatened to hang the blanket up over our curtain (which divided the "rooms") when we had Huskers next door to us. Considering where we were, I think every neighbor we ever had were Husker fans. (And as a side note for people "in the know", in that picture she was on C-PAP. She was only on C-PAP for about 5-6 hrs her whole stay. She hated it. Soon after that picture she went back on the vent.)
We were also in the hospital at the beginning of football season. On Football Saturdays we would get LC all dressed up for the occasion (even though we hardly ever won--we are loyal fans)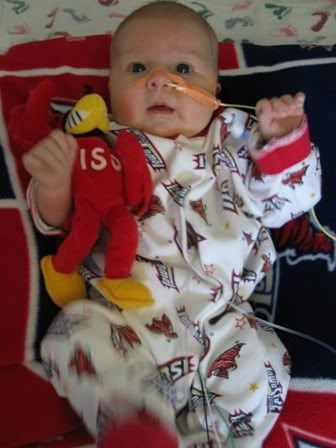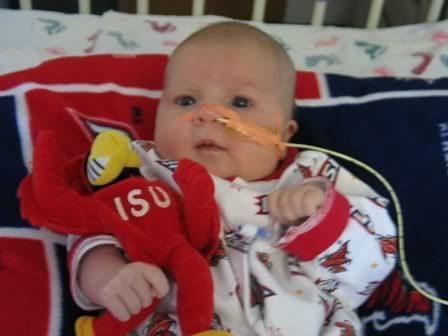 The little stuffed Cy still sleeps with LC in her bed.
This is a photo from LC's early hospital days. The day she was born and most of the next day I wasn't there, so we only have a few pictures from FIL's camera. This was before she went in for surgery at 2 days old.