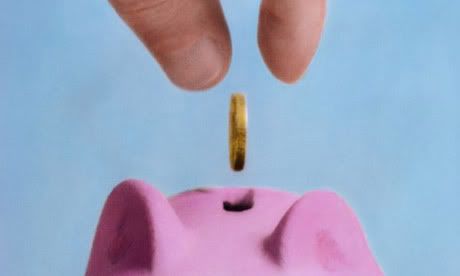 I think I've mentioned this before, but hubby and I are kind of cheapskates. We like to hold onto our money and try to spend wisely. Hubby comes by it naturally; he had to pay out-of-state tuition for college and worked hard every summer to help pay for school. He always had a balanced check book and soon became interested in investing/money managment on his own.
Me, I didn't come by it naturally. In college I had a credit card attached to my parent's account and used it well. I only knew my bank account balance when I checked at the ATM, which usually prompted a phone call home to say, "Dad, I need some money in my account." I took out student loans to pay for tuition (I'm still paying off tuition) and my parents helped out greatly with the day-to-day expenses.
I guess being married to hubby has rubbed off on me. I realize I can't stay home and spend money, so I've become "cheap" to a point. I try hard to buy things only on sale. If I'm buying something online, I'll only order if I can find a free shipping code. I do clip coupons some, but not as much as I could. As some of you may know, finding a bargain gives you a "high" and you always wonder how much cheaper you could've gotten the item.
I thought I was doing good at Target last week when I had good coupons ($1 off or more) for items I usually buy. I also found the body wash I wanted on the clearance shelf for 1/2 of what I was going to pay. I was feeling good about my bargains, so I shared them with hubby. He one-uped me when he went golfing on Sunday and paid (drum roll please) . . . 25 cents for a round of golf. He had some expired gift certificates to a course here in town, but the course was flooded for half the summer so they still honored them. I was glad hubby could get in one more round before the snow flies--it was 75 degrees on Sunday.
Because we are bargain shoppers, we are also
Black Friday
shoppers. For the past 4-5 years, we have gotten up at the crack of dawn (actually a few hours before, even) to head to the store to grab all the bargains. We aren't those crazies who grab one of everything on sale, we have our lists in mind and look for those items. We will hit the sales once again this year when we are in Sioux Falls over Thanksgiving. One year hubby was even interviewed by one of the local TV stations as he waited outside of Target before the store opened. I can usually get all my shopping in and be back to Grandma's before the girls even wake up.
I'm off to see if the Halloween stuff has gone 75% off at Target yet--costumes make great dress up items! :)