If we had a lot of
candy
in the house before, we have even more now. A LOT more. I wasn't sure how many kids we would get trick-or-treating, so I had plenty of candy and treats on hand. How many did we get? About 20. That's it. What does that mean? That I have a lot of candy left over, and that doesn't include what Emma got when she went out trick-or-treating. I'm trying to get my fill this weekend and then I'm going to get it out of sight.
Friday was Emma's Halloween party at school. I had signed up to volunteer at the party so I got to enjoy the festivities as well. All the kids put on their costumes, then there were 5 different "centers" they went around to play games, make crafts, and make their snack. Then all the kindergarten classes got to parade around the school. Only the kindergarteners did the parades, but I think the kids up to 3rd grade got to wear their costumes and have parties in their room.
Here is Emma's class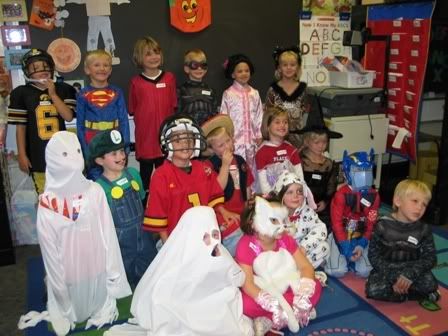 Of course when I was making Emma's costume I thought it was perfect that it was all fleece. This is late October in Iowa and we have been known to have pretty cold Halloweens. The costume was perfect for layering and she would be nice and warm. Nice and warm is an understatement when you are dressed head to toe in fleece in 70 degree weather. Way to go, mom. How was I supposed to know we would be 15 degrees above normal?! She did get hot at the class party but was just fine when out trick-or-treating. (And I did pack a t-shirt for her to put on so she could take the top off at school, but of course she failed to put that on).
This is our new dog, Spot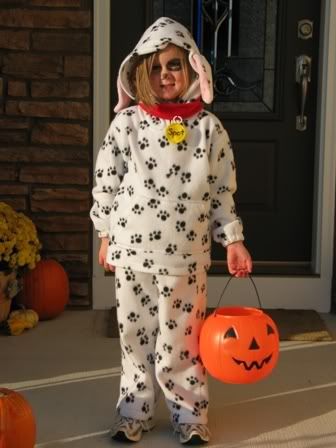 Hubby said she got lots of compliments while they were out, and some of the kids even asked to "pet" her. I know she will wear the costume around the house for the next few months.
And every Spot needs a beautiful pink princess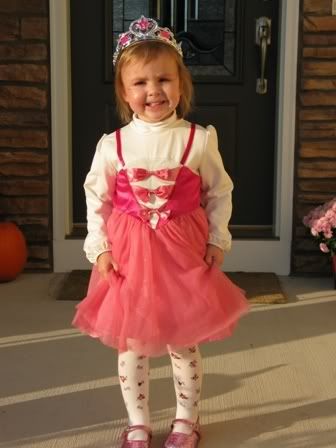 Leah is in her element dressed up like a princess. Not a day goes by where she isn't dressed up in this dress, a purple princess dress, or her Ariel costume.
Before trick-or-treating stared, we were invited over to the neighbor's house for dinner. Most of the other families there were coaches' wives and kids (the team was in Oklahoma for the game already) that we didn't know, but it was a fun time. The rest of the kids all went out t-o-t'ing together, but Hubby took our girls. Here are all the kids before the left: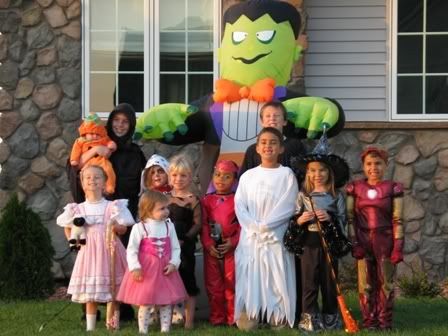 Hubby took the girls out just after 5:30 pm. Leah lasted for about 1/2 hr, then she came back home and helped me pass out candy (the 4 times the doorbell rang). Emma stayed out the entire two hours and came back with this:
Elway always has to check out the haul to see if anyone accidently slipped kitty treats into the bag. Sorry, kitty--no treats for you.
Last weekend when my mom was here we carved a pumpkin. Of course I failed to take pictures of the finished product and it was probably the second most elaborate pumpkin I've carved. Here is what Emma thought of pumpkin carving:
I did carve another pumpkin later last week. By Friday night, our spider pumpkin from last week was looking pretty sad. Even the jack o'lantern I did was starting to wilt, but it was fun.
Happy Halloween!