I knew the time was coming, I think I was just putting it off. It is finally time to say goodbye to this: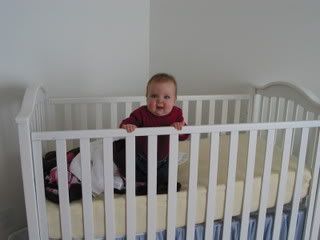 Not the child, the crib. The child would be Emma--I think she is going to be around for quite awhile.
The crib was first put up about 5.5 years ago. Like any piece of furniture we buy, we shopped for that thing forever. It has made it through two children and three moves so far. Emma used it for about 26 months. One day a month or so before Leah was due she jumped out for the first and last time during naptime. We put the mattress on the floor that day and she's been sleeping on a mattress on the floor ever since. For the next two years or so it was an air mattress (we did go through two of them, Glenda got the pleasure of buying one on her watch). Now she actually has a real mattress, but it is still on the floor. We may be getting closer to getting her an actual bed. Maybe.
Leah has slept in the crib since she was 6 weeks old (that's when she came home from the hospital). She has never attempted to climb out or jump out or sneak out, so why mess with a good thing? Maybe because she is 3 years old and no longer really
needs
a crib. I think I'm sending mixed signals by telling her she needs to be a big girl and potty train yet she still sleeps in a crib.
The past week she's had trouble sleeping since she hasn't felt well. Usually if she wakes up crying in the middle of the night, I will take her downstairs to sleep with her. She sleeps on the floor and I sleep in the guest bed. The past two nights she has felt better, but has woken up at 9:30 pm crying and wants to go sleep downstairs. The jig is up, sister. No more sleeping downstairs--Mommy needs to sleep in her own bed. I have got her to sleep in her room on the floor. So once again I moved the crib mattress to the floor; we'll see what she thinks.
Honestly, I don't know where we are going to put it right now, but first we have to get it apart. I will be spending the rest of the day looking for the allen wrench that came with the crib so hubby can disassemble it once he gets home.